Awards
2016 Chamber of Commerce Business of the Year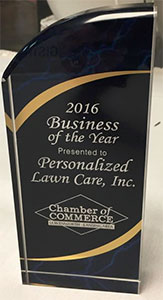 Annually, the Chamber is proud to award one business with the prestigious honor of Business of the Year. Personalized Lawn Care (PLC), LLC and its owner, Mr. Kevin Jensen were presented with this honor in January, 2016. Kevin Jensen is the baby of eleven children growing up near Milwaukee, Wisconsin. At the age of 17, he was invited by a friend to move to Kansas to mow grass for $250.00 per week. At that time, Kevin thought that was a rewarding opportunity. So, he told his father of his plans to move to Kansas in efforts to start making money and his father replied, "Son, you don't even mow grass here!" Kevin ventured on to Kansas with less than $200.00 in his pocket in an old beat up truck to see what mowing grass was all about.
Living in the garage of his friend's house in Shawnee, Kansas, he worked countless hours saving money, only dreaming of starting his business one day. After ten years of knowledge, experience and a passion for customer service, he decided to venture out on his own. He didn't know where to start, but chose a simple "grass roots" approach going door-to-door meeting people and handing out a simple flyer with a picture of himself on it. That night he gained over two hundred customers and that is when PLC began.
In 2012, Kevin started dreaming bigger. The owner of Leavenworth-Lansing Nursery approached him with a business proposition to purchase his business. Kevin was still unsure of what business ventures to take; however, he thought about the possibilities of owning his own landscape/nursery one day. After six months of careful consideration, Kevin decided to take a risk and move forward with the purchase. On January, 1, 2013, the business officially merged with Leavenworth-Lansing Nursery and grew from $1.4 Million to nearly $2.3 Million by the end 2015 with over thirty employees.
Since the acquisition of the Lansing-Leavenworth Nursery, they have become the lawn care/landscaping of choice. "You know you are doing everything right when you have employees who want to come to work and make a difference," says owner, Kevin Jensen. "Many days I look around at the many employees walking around the facility and think to myself, 'Is this a dream?'" Kevin continues, "It truly is a dream! When customers walk in the door and brag about how amazing their yard or landscaping looks…that IS the reward!" Over the past ten years Kevin has donated more than 275 hours a year to the Lansing School District in labor, giving back to the district that educated his daughters. "Giving back to the community is what it's all about and I am honored to be a part of the growth," Kevin acknowledges. The future holds endless possibilities; however, Kevin lives by the motto his friends instilled at a young age of 17, "The sky is the limit." He preaches those very words to his employees almost daily and acknowledges the success couldn't be possible without his employee's dedication.